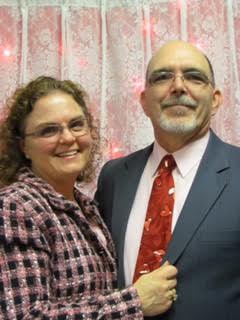 Our Pastor
Pastor Ken Sommerfeldt and his wife, Paula, came to Olive Branch Baptist Church in January 2010, moving to Belle Vernon from Girard, KS. We are very blessed to have them!
Pastor Ken is retired from the U.S. Air Force, where he served as a fireman and recruiter. He grew up in Wisconsin and is a dedicated Cheesehead. He reads extensively and hosts a quarterly Christian book club complete with dinner.
Paula is a musician who is part of the church's music ministry. An artist, she works with stained glass, and some of the proceeds from her projects help to fund her mission trips, most recently to Haiti. She is currently serving a three-year term as Mission and Service Coordinator for AB Women's Ministries in our region.
Ken and Paula have two sons, both of whom are in the ministry and are married. Ken and Paula also have two grandchildren.
The Church Family
In 1 Corinthians 12:12-14, the apostle Paul writes, "Just as a body, though one, has many parts, but all its many parts form one body, so it is with Christ. For we were all baptized by one Spirit so as to form one body--whether Jews or Gentiles, slave or free--and we were all given the one Spirit to drink. Even so the body is not made up of one part but of many."
We are blessed to have many wonderful people who have taken on leadership and other roles within the church. These folks serve on committees, as officers, and as teachers and fill many other needs. They roll up their sleeves to help out within the church and within the community at large.
Members and non-members alike can serve on a variety of committees. When someone has an idea for a new ministry, we also work with that individual to ensure that they have the support they need to make it happen. If you see a need, we are interested in learning more. We encourage everyone to be part of a ministry in some way. We encourage everyone to use their gifts to the glory of God.