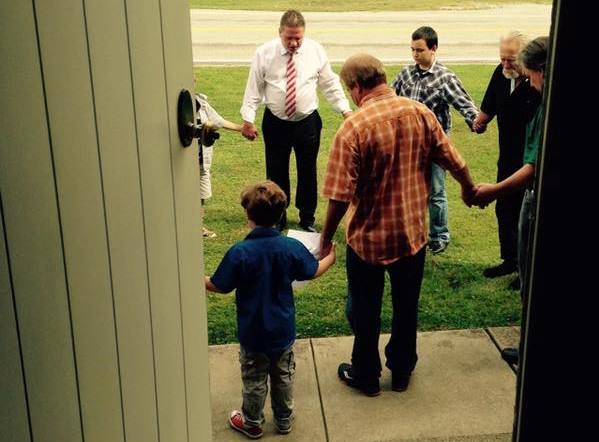 Welcome!
We live in a time when people are desperately seeking to find spiritual truth and comfort. Olive Branch Baptist Church, located in rural Belle Vernon, PA (Rostraver Township), is committed to guiding and supporting you and your family in this journey.
We invite all who desire to know and serve Christ to be a part of our growing church family.
Olive Branch Baptist Church is a place where people matter. It is a place where people can draw closer to God and learn about His plan and how to live a life that is in accordance with His Word.
Who We Are
Olive Branch Baptist Church is part of the American Baptist tradition.
Our teachings are firmly and unswervingly rooted in the Bible. We believe that God is the source of comfort in a world that offers little security outside of God's arms. We place our faith in God, the Father; Jesus, His Son; and the Holy Spirit.
We have a heart for outreach and ministry. We do not believe that a church should merely serve the flock who comes through its doors on Sunday morning. As a result, we serve the community through various ministries and support missions trips.
Spending time with God is important to us, and we hold several prayer meetings and Bible studies throughout the week.
Join us for Christian fellowship as well as opportunities to deepen your knowledge of the Bible and minister to those in need.
We are located at 296 State Road 981, Belle Vernon, PA, near the Cedarbrook Golf Course.
An Invitation
We invite you to listen to the sermons and dig into other information available on this website and visit our Facebook page to get to know us and learn how you can get involved! Please do not hestitate to reach out to us for additional information or with prayer and other requests.
We know that some of the visitors to this site are going through the daunting task of finding a new church home, and we have tried to provide a broad picture of what you can expect when you visit us in person. We hope to see you soon!
Announcements
Worship Service
Saturday Schedule
Saturday Evening Worship: 6 p.m.
Sunday Schedule
Sunday School: 9:45 a.m.
Worship Service: 10:45 a.m.
Weekly Happenings
Mondays
Tuesday
Prayer Meeting 10 am and 7 pm
Wednesdays
Pastor's Bible Study: 6 p.m.
Thursday
Pickleball 6 pm in the back parking lot. Come join us.
Friday
Saturday
Nursing Home Ministry (10 am) or Prayer Walk depending on the time of year
Upcoming Events
Movie Night "Christmas Oranges"
Impact Ministry
Men's Breakfast
Christmas Tea Luncheon
Learn more on our News page.